The Harvard Club of Miami
cordially invites you to join us for a
BOOK CLUB DISCUSSION
on

TUESDAY, OCTOBER 20, 2020
6:00pm

Webinar via Zoom
Zoom info will be sent to all attendees prior to event

Based on feedback from our last meeting, we would like to give attendees a chance to submit questions to the rest of the group for consideration prior to the meeting. To submit a question, please use this link

No cost to attend

Attendance is limited, so register early!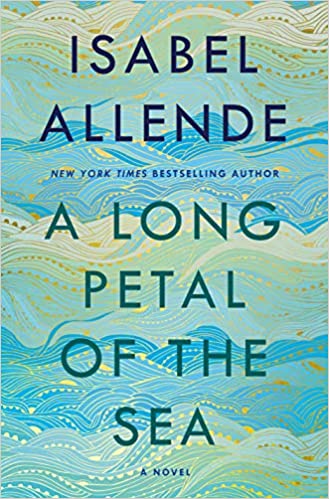 Thank you to everyone who joined our first Book Club meeting and made it so successful! We received positive feedback, and are excited to invite you to our second session on Tuesday, October 20, 2020 at 6:00pm, according to our regular cadence on the third Tuesday of each month. Due to COVID, we will be holding meetings for now via Zoom, but we hope to have an in-person component when circumstances permit. The next book for discussion will be A Long Petal of the Sea by Isabel Allende, an epic novel spanning decades and crossing continents, follows two young people as they flee the aftermath of the Spanish Civil War in search of a place to call home. Please join us for meaningful conversation, great company, and new experiences! To participate in the book club, please sign up via the button below to register free for the event, order the book on your own, and read it in time for our group discussion.



When ordering books, we encourage our members to support local business if convenient. Thanks to Rob Rosen (AB '74, JD '79), we have secured a 20% discount on book club readings with Books & Books by utilizing the "HARVARD" promo code. You can order the hardcover or e-Book editions from Books and Books through this link. If you have any questions or require additional information, please reach out directly to our committee chairs Andrea Moreno AB '12 (aimz1390@gmail.com) and Jason Wong AB '10 (jason.ji.wong@gmail.com). Many thanks to our Book Club Steering Committee for their efforts in establishing this new Harvard Club of Miami activity: Andrea Moreno AB '12, James Manahan JD '61, Jason Wong AB '10, Stacey Gordon, AB'98, MPP'02, and Rob Rosen AB '74, JD '79.
Not yet a member of the Harvard Club of Miami? Here's why you should join!
Join the club or renew your membership today by visiting HERE! or email our club administrator at info@harvardmiami.org to request an application.
(*) Harvard affiliates who join the Harvard Club when registering are eligible for Member pricing.

Membership benefits include access and discounts to exclusive "but for Harvard" programs, cultural activities and social events; exclusive networking opportunities; connections through social media focused on professional and personal networking, career opportunities and job postings; and much more.