The Harvard Club of Miami
cordially invites you to join us for our
YOUNG PROFESSIONALS VIRTUAL LUNCH SERIES
Topic: Creating and celebrating a Cuban Culture hub in Miami, within the Harvard network and beyond

on

WEDNESDAY, OCTOBER 14, 2020
12:00pm

Webinar via Zoom
Zoom info will be sent to all attendees prior to event

No cost to attend

Attendance is limited, so register early!
Registration deadline is Tuesday, October 13th at 5:00pm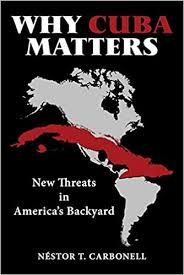 Please join Harvard alumni María Carla Chicuén, AB'10 and Néstor Carbonell, JD'58 as they discuss how they're working to build a community to preserve Cuban heritage. Néstor's book, Why Cuba Matters: New Threats in America's Backyard will also be discussed.

Maria is the Founding Executive Director of CasaCuba at Florida International University (FIU). She has over ten years of professional experience in the fields of higher education and international development. Before joining FIU to lead the efforts to build CasaCuba, she led special projects in the Office of President Eduardo J. Padrón at Miami Dade College, focusing on strategic partnerships and community engagement. Her complete bio can be found here.

Néstor was born and raised in Havana, Cuba. He comes from a prominent Cuban family that left its imprint on the island's wars of independence and on the foundation and development of the republic. Forced into exile in June 1960 after denouncing the Communist takeover of Cuba, Carbonell played an important role in the resistance and diplomatic fronts of the pro-democracy struggle. His complete bio and book press release can be found here.


Not yet a member of the Harvard Club of Miami? Here's why you should join!
Join the club or renew your membership today by visiting HERE! or email our club administrator at info@harvardmiami.org to request an application.
(*) Harvard affiliates who join the Harvard Club when registering are eligible for Member pricing.

Membership benefits include access and discounts to exclusive "but for Harvard" programs, cultural activities and social events; exclusive networking opportunities; connections through social media focused on professional and personal networking, career opportunities and job postings; and much more.