The Harvard Club of Miami
cordially invites you to join us for a virtual webinar entitled
PARENTING WITH THE CASE METHOD MIRACLE
with
Anne Jones (MBA'97)

WEDNESDAY, JUNE 17, 2020
4:00pm - 5:00pm

Webinar via Zoom

No cost to attend





Attendance is limited to the first 100 registrants, so register early!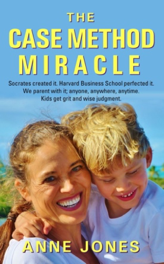 Anne Y. Jones, a mother of a ten-year-old boy, Harvard Business School graduate, and summa cum laude alumna from Georgia Tech University, has written a book about how to apply the case study method to effectively teach children independent thinking, wise judgment, and grit. This can be done with kids of any age, starting at two or three and extending all the way through the teenage years. Involving simple, one-minute stories, the case study method is something anyone can do, anywhere, and at any time—and the "miracle" refers to the outcome we see in kids' behavior! Adding this to your toolbox, it can be a game-changer especially during the formative years of childhood, helping kids become independent decision-makers, own their choices, and self-correct--lessening the need for direction and correction from caregivers.
Before "retiring" from over ten years in the corporate world, Anne held progressively senior positions in strategy, finance, and performance improvement with NYSE companies. Once she met Mark, her husband, Anne focused on revitalizing the family surgery business and being a wife and a mom. Anne, Mark, and Jupiter, their youngest son, reside in Atlanta, Georgia.
Not yet a member of the Harvard Club of Miami? Here's why you should join!
Join the club or renew your membership today by visiting HERE! or email our club administrator at info@harvardmiami.org to request an application.
(*) Harvard affiliates who join the Harvard Club when registering are eligible for Member pricing.

Membership benefits include access and discounts to exclusive "but for Harvard" programs, cultural activities and social events; exclusive networking opportunities; connections through social media focused on professional and personal networking, career opportunities and job postings; and much more.