The Harvard Club of Miami
is pleased to share the following invitation from the
The Miracle of Case-Method Parenting (and Grandparenting)

Wednesday, September 16, 2020
5:00pm - 6:00pm

Webinar via Zoom
Zoom info will be sent in advance

Anne Jones (HBS '97) has written an exciting book about how to use the case study method she learned at HBS to effectively teach children independent thinking, wise judgment, and grit. This method can be used with kids of any age, starting as young as age two and extending all the way through the teenage years and beyond. Join us for this special virtual event!
Cost:
HBS Club of South Florida Members: No Cost
Guests/Non-Members: $10
Questions: Please contact the HBS club admin at admin@hbssouthflorida.org for assistance.

By registering for this event, you agree to the following:
I understand that the session I attend may be recorded and made available, and that my image, name, comments, or questions may appear on-screen.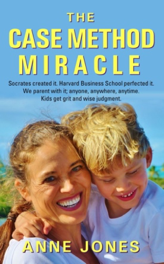 About Anne: Anne Ylipahkala Jones is a native of Finland who now resides in Atlanta, Georgia. She and her husband Mark, are raising their ten-year-old son, Jupiter, using the case study principles she describes in her book, The Case Method Miracle, published in September 2019 by Crimson Square Press. Prior to "retiring" from the corporate world, Anne held pr
ogressively senior positions in strategy, finance, and performance improvement with NYSE companies. She received her MBA from Harvard Business School, and earned her bachelor's degree in Systems Engineering (summa cum laude) from Georgia Tech while on a full track scholarship.