The Harvard Club of Miami
is pleased to share the following invitation from the

Teaching by Heart: One Professor's Journey to Inspire
Thursday, February 4, 2021
5:30pm - 7:00pm

Webinar via Zoom
Zoom info will be sent in advance

Join the HBS Club of South Florida and Professor Tom Delong for Losing Our Way and Finding it: Reflections on The Challenges of Living a Life through Achievement

After years of studying the human experience in organizations, in families, in dyads and personally I continue to wonder why those of us who are wired to measure success through achievement find ourselves losing our way and allowing others to pay for our derailment. Professor DeLong will reflect upon his years teaching at HBS, being a practitioner at Morgan Stanley (where Rob Parson paid for Tom's sins) and a researcher on human behavior to give some guidance on how to find our way so we might enhance the lives of others.
Cost:
Harvard Club of Miami Members: No Cost
HBS Club of South Florida Members: No Cost
Guests/Non-Members: $10

Questions: Please contact the HBS club admin at admin@hbssouthflorida.org for assistance.

By registering for this event, you agree to the following:
I understand that the session I attend may be recorded and made available, and that my image, name, comments, or questions may appear on-screen.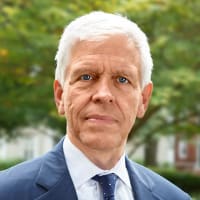 About our speaker:
Baker Foundation Professor of Management Practice
Th
omas J. DeLong is a Baker Foundation Professor of Management Practice and the former Philip J. Stomberg Professor of Management Practice in the Organizational Behavior Department at the Harvard Business School. He is an expert in leader development, organizational and career transformation.